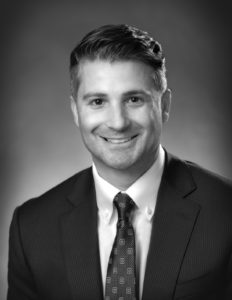 Ricky A. Palladino devotes his entire practice to immigration law. Having worked for the legacy Immigration and Naturalization Service ("INS") prior to entering the private bar, he brings a wealth of insight and experience into his role as advocate and counselor. Mr. Palladino loves meeting individuals from all over the world and aims to foster relationships with his clients that go beyond the parameters of immigration law. Mr. Palladino thoroughly enjoys being an immigration lawyer and brings his pride and zeal for his job into every case.
Mr. Palladino was admitted to the Pennsylvania Bar in October, 2006. Prior to entering private practice, Mr. Palladino worked as the District Counsel's intern for the legacy INS. He left the District Counsel's office in the fall of 2003 to serve as the President of the Students' Government Association at La Salle University. Mr. Palladino graduated from the University of Dayton School of Law but also attended Temple Law School as a visiting student for his final year of law school While at Temple Law School, Mr. Palladino won a Barrister's Award for Outstanding Trial Advocacy. After law school, Mr. Palladino joined Bagia & Associates where he worked on a vast array of immigration cases from 2006-2012. He then formed Solow, Isbell & Palladino, LLC where he represented thousand's of individuals and numerous corporations and institutions from 2012 -2020. 
Mr. Palladino assists individuals in all areas of immigration law including: removal defense, family based immigration, asylum and refugee law, naturalization, F-1 student visas and all other temporary visas. Mr. Palladino assists employers and corporations in all areas of immigration law as well including:  I-9 Compliance & I-9 Audits, Labor Certifications, H1-B Visas, TN Visas.
Mr. Palladino is an active member of the American Immigration Lawyers Association where he serves as the Philadelphia chapter liaison to Immigration & Customs Enforcement ("ICE") and is a member of the Military Assistance Program which provides pro bono legal services for members of our armed forces as well as their immediate family members. Mr. Palladino has spoken on immigration law topics at various colleges and universities such as: University of Pennsylvania, La Salle University, Wilmington University, Brac University (Dhaka, Bangladesh). Mr. Palladino has also been a speaker for various Continuing Legal Education ("CLE") courses for the American Immigration Lawyers Association and 'LawReview CLE'. 
Mr. Palladino has been recognized as a Super Lawyer every year since 2012 and has also been named a Top 10 Immigration Attorney by Best of the Best Attorneys. Mr. Palladino has been featured in news articles from a variety of publications including the Philadelphia Inquirer, Pittsburgh Post-Gazette, UK Daily Mail, Pro Publica, WHYY. Mr. Palladino is a frequent guest on radio shows including Flashpoint on KYW1060, Court Radio with Dean Weitzman, and The Sonny Banks Show. Mr. Palladino is very proud to have been part of a small group of immigration practitioners who assisted with immigration issues surrounding Pope Francis' visit to Philadelphia in 2015. 
Mr. Palladino is a member of the Pennsylvania Bar Association and the 3rd Circuit Court of Appeals. 

Schedule a Consultation
Our dedicated attorneys are eager to meet with you and learn about your specific immigration issues. For assistance, please call our office at 215 576 9000.