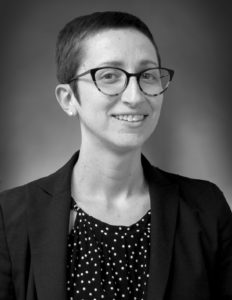 Attorney Andrea Saylor handles a wide range of immigration matters, with a particular emphasis on representing clients in removal (deportation) proceedings and those seeking asylum or other humanitarian relief. Andrea is dedicated to providing the highest quality representation to her clients and acting as a compassionate advocate in navigating increasingly complex and difficult immigration laws and procedures. Prior to entering private practice, Andrea worked as a Judicial Law Clerk for the Philadelphia Immigration Court from 2015 to 2017, where she drafted judicial opinions and legal memos dealing with a wide range of issues for each Immigration Judge. She is barred in Pennsylvania and New Jersey and is a member of the American Immigration Lawyers Association.
Andrea graduated cum laude from Temple Law School in 2015. As a law student, she interned with HIAS Pennsylvania and Nationalities Service Center, working with immigrant clients on a variety of cases. She also represented low-income clients in clinical courses at the Defender Association of Philadelphia and Temple Law's Sheller Center for Social Justice. Prior to attending law school, Andrea worked for a homeless services non-profit organization in Philadelphia and an international humanitarian organization in Egypt. Ms. Saylor obtained an M.A. in International Peace and Conflict Resolution from Arcadia University in 2011 and graduated magna cum laude with a B.A. in English from Messiah College in 2005.
Schedule a Consultation
Our dedicated attorneys are eager to meet with you and learn about your specific immigration issues. For assistance, please call our office at 215 576 9000.