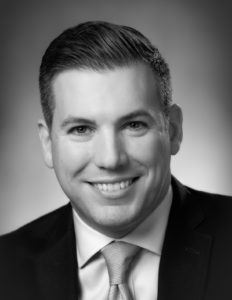 Attorney Christopher M. Casazza is a co-founder of Palladino, Isbell & Casazza LLC.  
Prior to co-founding Palladino, Isbell & Casazza LLC, he was a partner at a prominent Center City Philadelphia Immigration Law Firm from 2019-2020, and he was employed as a senior attorney a boutique immigration firm in suburban Philadelphia, PA where he worked from 2009-2019.
A persuasive and successful immigration lawyer, Christopher ("Chris") is well respected by colleagues, clients, and courts alike.  Chris has dedicated his legal career to all aspects of immigration law including removal (deportation) defense, appeals, federal litigation, the immigration consequences of criminal convictions, asylum/refugee law, U-Visas, family-based petitions/waivers, and employment-based immigration. 
Chris's success as an immigration attorney is due to the fact that he enjoys his work and believes in what he fights for.  He is energized by difficult cases and strives to find favorable solutions to complex matters.  As a litigator, Chris has been extremely successful defending individuals and families from removal (deportation), on appeal before the Board of Immigration Appeals (BIA), and in Federal District and Circuit Court, including Oral Argument before the United States Court of Appeals for the Third Circuit, see also here. 
Chris's passion and dedication for immigration law has been recognized by both the media and his clients.  In 2017, Chris was honored as one of the "16 young minds shaping Philly's legal landscape" by Billy Penn news.  Chris has been featured as an immigration expert by multiple news and media outlets, including the New York Times, NPR, Telemundo, VICE News (Showtime), the Immigration Nerds Podcast, BuzzFeed News, the Philadelphia Inquirer, WHYY, The Philadelphia Tribune, Catholic Philly,  and the Philadelphia Business Journal. As a client testimonial puts it, "Chris is a great guy full of passion and absolute dedication to his job."
Chris is also dedicated to helping other attorneys and professionals effectively represent their immigrant clients; he has been a featured speaker and lecturer on numerous immigration law topics, including Representing Individuals with Final Orders of Removal (AILA Philadelphia Chapter 2018 CLE), Immigration Law Issues (2018 SWAN Statewide Winter Conference), Immigration Law Under the New Administration" (2017 Chester County Bar Association), Administrative and Judicial Review – Board and Circuit Case Law (2016 Pennsylvania Bar Association, Immigration Law Forum), Emerging Issues with Humanitarian Relief  (AILA Philadelphia Chapter 2016 CLE), and Success with U-Visa Applications (AILA Philadelphia Chapter 2012 CLE).  
 Chris is a proud member of the Philadelphia AILA Chapter, previously serving as the chapter's Office of the Chief Counsel liaison co-chair (2015-2016), the chapter's EOIR/Immigration Court liaison co-chair (2016-2018), and the chapter's EOIR/Immigration Court liaison emeritus. Chris is on the Board of Directors of Justice for Our Neighbors, Delaware Valley (JFON-DV), a non-profit organization that offers free and low-cost immigration legal services to low-income immigrants and their families, and serves as the Chair of JFON-DV's Legal Operations Committee.  Chris is also an Adjunct Professor at Villanova University, Charles Widger School of Law in the Clinic for Asylum, Refugee & Emigrant Services (CARES).
 Chris is licensed to practice law in Pennsylvania, The U.S. Third Circuit Court of Appeals, The U.S. District Court for the Eastern District of Pennsylvania, The U.S. District Court for the Middle District of Pennsylvania, The U.S. District Court for the District of Columbia, The U.S. District Court for the District of North Dakota, and The U.S. District Court for the District of Nebraska. As a federal immigration law practitioner, Chris is able to practice immigration law in all 50 states, the District of Columbia, and U.S. territories.
Chris received his J.D. from Villanova University School of Law.  He lives in Philadelphia with his wife and daughter.
Schedule a Consultation
Our dedicated attorneys are eager to meet with you and learn about your specific immigration issues. Click the button below to schedule a consultation.